Start Point Dialog
<!– CONTEXTID_0 –>

Use this contextual menu to set the parameters of a Start Point




You can set the Start Point's interarrival time through the Timing Panel.
You can control how work items are pushed from the Start Point using its Routing Out dialog.
Actions let the Start Point change the values of Labels of Work Items and other Global Data Items as Work items enter the Start Point.
You can access more detailed properties of the Start Point, such as its Constraints and the use of Schedules, via its Additional tab. You can access all its properties also by double-clicking on it.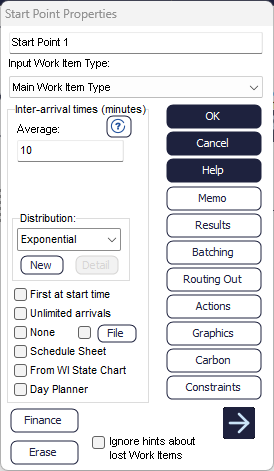 The Graphics tab lets you define how the Start Point appears on the screen.
Start Point Properties: