Resource Priorities
You can use Resource Priorities to gain further control of your resources and pooled resources, by specifying which activities they should prioritize their time at.
An Example of Use
Let's think about an example simulation of a Bakery. You will have two activities; one for Baking, and one for Packing and Shipping the goods.

Additionally, you also have two resources; a Baker, and a Packer. We can make a Pooled Resource called Bakery which has both the Baker and the Packer.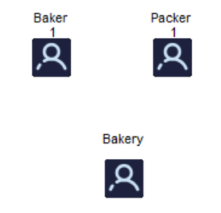 We're going to want the Baker to focus on the Baking activity, and the Packer focused on the Packing and Shipping activity. But what if the Baker can also assist with Packing and Shipping, and the Packer is actually a decent baker?
We can use this feature to allow other resources to help out at stations that may be lower priority when they have downtime from their main focus.