We have been shortlisted! We are delighted to be nominated for 5 Tech for Good awards for our work with South African charity Shout It Now. Read more here.
Resource Travel Time

Resources move between Activities. Their default is to travel instantly between Activities, but you can set a Travel Time so that it takes time for them to move between Activities.
To set up Travel Times for your Resource, select your Resource onscreen, then either:
Click the Travel button on the Resource's Advanced Ribbon tab or

Double click on the Resource to open the Resource Dialog then selecting the Travel button
There are two ways to set Travel Times for Resources:
Using the drop down lists on the travel dialog

Using a travel matrix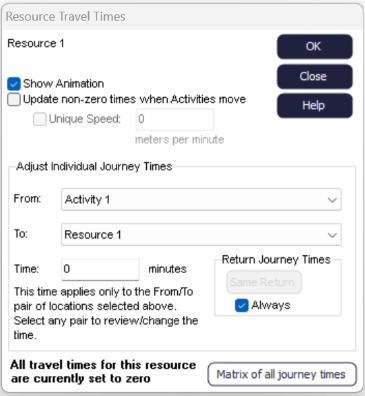 Setting Travel Times Individually
Select the Travel button in the Resource Ribbon Tab or in the Resource Dialog, this will open the dialog below.
Select the Activity the Resource will travel from and the Activity it will travel to, and then set the Travel Time.
If the Return Journey is to be different then uncheck the Always option in the bottom right of the Resource Travel Times dialog. There can be Travel Times set for as many combinations of journey as required, using the same dialog.
The Resource is animated by default, so it will be seen traveling between Activities. If you want to turn off the animation, uncheck the Show Animation box.
If an Activity is moved the programmed Travel Time will remain. If this is not the case then check the Update non-zero times when Activities move option. This allows the Resources' Travel Time to be dependent upon screen location. The speed of Travel of the Resource can be set to be unique to this Resource by checking the Unique Speed option.
Travel Matrix
The Matrix of all Journey Times button allows a matrix of all the programmed Resource Travel Times to be seen. This matrix is editable and allows copying and pasting of data.
If you have a lot of travel times or times that vary on the return journey, the travel matrix is the ideal way to view all your Travel Times.
Resource Travel Arrows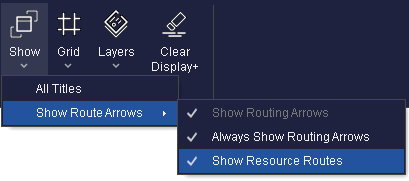 Resource Travel Arrows can be shown by selecting the arrow beside the Show Hide Routing Arrows button and then selecting Show Resource Routes. Resource Travel Arrows can be bent in the same way as other arrows.