We have been shortlisted! We are delighted to be nominated for 5 Tech for Good awards for our work with South African charity Shout It Now. Read more here.
Quick Launch
The Quick Launch window displays Financial information for your simulation and can be customized to create an interface for your simulation.
The Quick Launch window is highlighted by the red square in the picture below.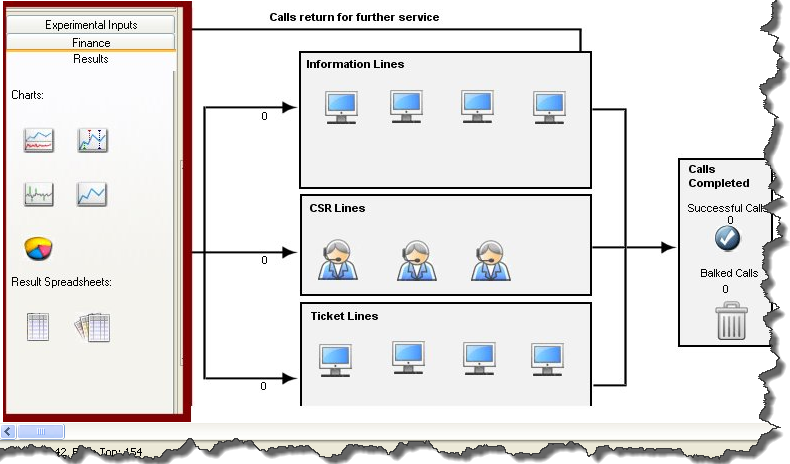 Right click on any Quick Launch tab to close it, delete it, moves the position it's displayed at or choose Insert to create a new tab. To customize the controls displayed on the tab select Customize and the window below will be displayed.
To add a control select from the control types in the Add box. The relevant properties for the control type will open below.
Text - Enter the text to be displayed.

Custom Report

- Select from the Custom Reports you have created. The report will be displayed independently of the Results Manager.

Dialog

- Opens any Custom Dialog, or Wizard chain.

Chart

- Select from any chart that exists in your simulation. When a Chart button is clicked it will open the chart if it is not currently displayed

Visual Logic

- Executes the selected Visual Logic, this gives you complete control to do anything you choose.

Component

- Drop and create any component. If the full file path is not specified Simul8 assumes that the Object Repository is where the component can be found. This allows you to easily transfer your simulation to other machines.

Image - Add any image from the simulation image library to, for example your company logo.
A button can be assigned any image from your simulation file library. The button width will adjust to accommodate the size of the image.
Text can not be displayed on buttons, however you can create button images that contain text.
Enter text for Hover Tip to have a pop up explanation displayed when the user hovers the mouse over your button.
To close the Quick Launch menu right click and select close. Whether the Quick Launch window is open or closed is remembered in the file.
Quick Launch can be set to not open by default when you create a new simulation in Preferences.