We have been shortlisted! We are delighted to be nominated for 5 Tech for Good awards for our work with South African charity Shout It Now. Read more here.
Resource Requirements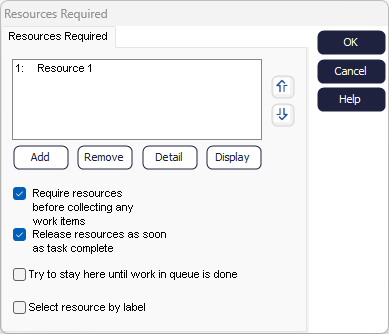 <!– CONTEXTID_102 –> This lists the Resources required at a particular Activity.
Each Resource listed must be available before the Activity can start work on a Work Item.
Add
Click ADD to select another Resource type for the list.
Remove
Click REMOVE to delete the highlighted Resource from this list of requirements at this Activity.
Detail
Specify the number of Resources required to process a Work Item and how they are released.
More Information
Require Resources Before Collecting Any Work
Optionally you can instruct the Activity not to load Work Items until Resources are available (otherwise Work Items can be taken from queues, but the timing of the work will not start until the Resource can be found).
Release Resources as Soon as Task Complete
Optionally you can instruct the Activity to release Resources as soon as the Activity has finished work, or, alternatively, to hold onto the Resources until the Work Item can leave the Activity. (This will not be the same time if the Activity is blocked).
If Simul8 cannot find one or more of the Resources it will not actually hold ANY of the Resources. It always waits until all are available before taking any.
Try to Stay Here Until Work in Queue is Done
Checking the option "Try to stay here until work in queue is done" instructs the Resource to remain at the current Activity until the feeding queue is cleared.
Select Resources by Label
The value in the label specified determines the Resource from the list that will be used. More Information
See Also