Route Drawing Mode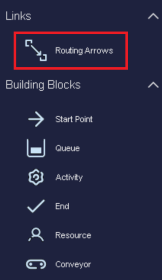 In route drawing mode you can create / change the route your Work Items take through the simulation by simply clicking on objects.

To enter this mode click the Route Drawing Mode button on the Simulation Drawing Tools Panel (there is a copy of the button on each tab). To leave this mode, click the button again.

To create a route arrow between two objects simply click on the first object, then on the second.

Alternatively, route arrows can be created / deleted while not in route drawing mode by holding the SHIFT key and clicking on the on the first object and then on the second.
See Also