We have been shortlisted! We are delighted to be nominated for 5 Tech for Good awards for our work with South African charity Shout It Now. Read more here.
Can't Find Excel
<!– CONTEXTID_0 –> When using Excel Connections or the Get from EXCEL / Set in EXCEL Visual Logic commands for importing or exporting data to EXCEL, you might come across the following messages: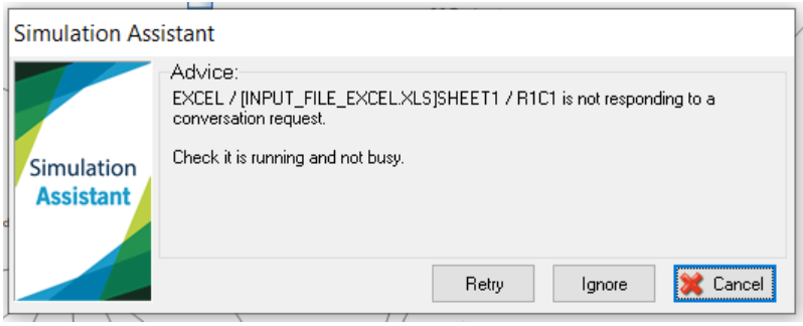 To resolve such issues:
Make sure the Excel file's and Sheet name on the Excel connection or the Simul8 command are written exactly as written on the Excel file you are using.

Avoid using punctuation signs and spaces for the Excel file's or the Sheet's name

Make sure you save the Excel file, and you are not in the middle of editing something in Excel (e.g. a cell value or a macro).
If you are using Excel Connections, and this issue persists after following the last 2 tips, check "Clear Excel Number Formatting" under the Advanced tab of Excel Connections.