What's new in Simul8 2024 ?
Our latest Simul8 2024 update introduces ground-breaking new features to help you make decisions in even less time. Each Simul8 release is packed with features and improvements suggested by you, our users - and this release is no different!
As with all of our releases, all of our subscribers will automatically receive this upgrade for free.
A new look for a new era of simulation
Simul8 2024 is a complete visual overhaul, bringing you a brand-new interface that will redefine the way you experience simulation.
Our new interface is more than just a visual overhaul; it's a product of intense collaboration between our Dev Team and simulation experts like you. We listened to your feedback and studied your workflow.
The result is a new ribbon design which is even more intuitive and structured to maximize your efficiency. You'll find yourself navigating effortlessly between building, analyzing and distributing your simulations, allowing you to focus on what matters – solving complex problems and making informed decisions.
Want access to the latest release? All our subscribers have instant access to Simul8 2024 by logging into Simul8 Online. If you're not a subscriber and would like access to this release and beyond get in touch and we'll be happy to help.
More game-changing new features
Introducing Experiment Builder
Experiment with any part of your process, without code!
New feature
Our previously known Scenario Manager has been retired, and replaced with something even better.
Simul8 has always been the fastest tool to learn, fastest tool to build and with this major update, we're taking it to the next level.
Introducing Experiment Builder. Whether it's simple what-if scenarios or bold process changes you are testing, our new Experiment Builder allows you to dynamically change parameter values and structural aspects of your simulations, meaning it's easier than ever to quickly experiment with any part of your process – without the need for code!
This is only the first phase of our ground-breaking Experiment Builder release, watch this space for lots of new features coming soon.
Elevate your simulations with improved connectivity and customization
Connectivity update
Simul8 has moved to 64-bit!
With our 64-bit release, your simulations just got bigger and better. Simul8 can now talk to 64-bit enabled databases using our SQL functionality and 64-bit versions of apps such as Python – meaning improved connectivity for our users.
Feature update
Internal Spreadsheets have had a makeover
Our unique, powerful internal spreadsheet feature has had a makeover. Featuring a modern look, you can now create compelling interfaces to level-up your simulations! That's not all. Now with conditional formatting rules, formulas, and much more, it is easier than ever to personalize your data.
What else has been updated recently?
Feature update
Transaction Log - Track every movement in your simulation
Simul8 already gives you access to results information in your simulation. Now, with our improved Transaction Log feature, you can further track every movement in your simulation, in just a few clicks!
Validate changes and identify patterns in your results through a single detailed log showing the movement of all Work Items, in and out of every Simulation Object. We have streamlined how the files work, so you have only one location to manage for Simulation Objects and Resources respectively, added more options for customization of information and made data produced by logs more accessible.
That's not all, once you have used the feature to create logs for your work items, you have a great source for further analysis. Slice and dice the data using an external tool like Excel or PowerBI to calculate, summarize and analyze data as well as see comparisons, patterns, and trends in your data.
The flexibility and depth of data available in the Transaction Log make it an ideal data source to level up your results even further and use it as a source for PowerBI and Python dashboards.
New integration
OptQuest for Simul8 - go from "what if" to "what's best"
Optimization is a powerful addition to simulation. Simulation is all about saying what if, and experimenting. As you experiment you gradually work out the best way to configure your process for optimal performance.
But what if you could skip that lengthy process of experimentation? What if rather than getting a range of results you have to decipher, your simulation could tell you exactly the right combination to maximize performance?
With OptQuest you can. OptQuest lets you move from what if to what's best. It lets you test thousands of different parameter combinations to find the best answer.
Latest innovation
Machine learning – automatically build your simulation rules from your data
Simul8 is already the fastest tool on the market, with the addition of machine learning we've just taken this to a whole new level! No more having to interrogate process owners and data sets to find the unique routing or timing rules, train your Machine Learning algorithm and let Simul8 do the rest!
We are the only simulation tool on the market to offer integrated machine learning functionality. Everyone lets you train data sets, or optimize end results. We let you use machine learning directly inside your simulation. Just call out to your preferred R or Python machine learning library to process your data set, and it'll tell Simul8 what it should do next.
Combine ML with our other killer USP Process Mining, and you have the ability to build continuously up to date, real time digital twins.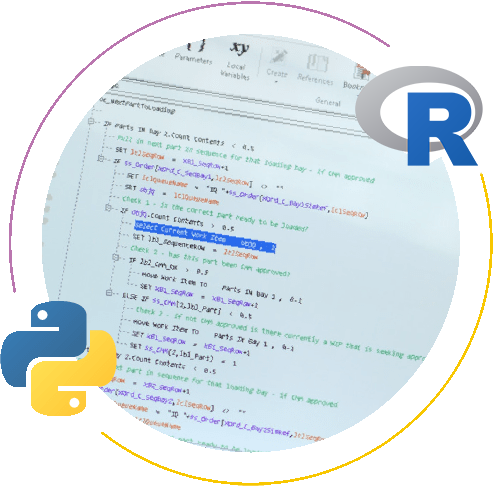 New feature
Use Python and R to control your simulation
Already know Python and R, and would prefer to write your custom rules in those languages? With this release you now can.
You've always had the ability to control Simul8 via APIs in Python and R, so you can embed Simul8 in your tech stack. This release now lets you link a R and Python script to a custom distribution so you can read out to your R or Python script to let it do the processing for you. This lets you access machine learning libraries descibed above, but also to write your own custom code for Simul8 to obey.
New feature
Unleash the power of Visual Logic in Simul8
The first Simul8 2022 update introduced our new Visual Logic Editor Developer Mode, our latest release enables our users to further extend the power of Simul8 with code. Using Simul8's own scripting language built especially for simulation logic building, this release futher extends the power and flexibility of this unique feature.
In this release, we've added new modes into the Visual Logic Editor. Many of our users use Visual Logic, Simul8's scripting tool, to allow for deeper customization when needed. We've made big improvements to the inbuilt editor to make it easy to get started with VL, and have added an extra mode for the real power users to increase efficiency and flexibility.
3 Visual Logic Editing Modes
Logic Builder
The Logic Builder allows you to build up Visual Logic commands without the need to code, using our Visual Logic Editor wizard. Just double click on a command to begin!
Logic Writer
Logic Writer is what was known as the "Free Edit" mode. This allows you to write your commands as though you were writing in a text editor and helps validate each line of code before you move onto the next one.
Developer
The final, and newest, mode is Developer which allows you to write Visual Logic code quickly without the need of having to validate each line as you go. Any errors or code suggestions are listed in an Error box located at the bottom of the Visual Logic Editor. This allows for quick and efficient code writing and helps point you towards any errors that may be in your Visual Logic commands.
More new features and improvements
Improved MORE plot functionality so that now you'll be able to right-click and save the MORE plots generated by the Results Manager.
Improved Process Mining validation if the wrong format of CSV is used

New feature

We've built a 'What's New' section - a dedicated area within Simul8 that details all the exciting new features and improvements we've recently released, as well as some handy resources and news from the Simul8 team!

New feature

Latest Build notification - get notified when a new service pack has been released!
We've made improvements to the Route Out by Sequence "Clear All" button placement and implementation to make it a more intuitive interface for our users.
We've made improvements to the Resource and Pooled Resource Results dialog to display all relevant information so that our users can see everything in the one place.
Plus much more - including improvements to Charts, Components, Excel Connections, Graphics and Process Mining. You'll see some nice user experience and stability improves throughout your Simul8 experience too!
What else is shiny and new?
Thanks to your feedback, we also make make regular improvements and enhancements to Simul8. We release automatically to our online users and our desktop users can download a service pack.
Check out the latest updates
Get access to Simul8 2024
Get in touch with our team to get access to the latest version of Simul8. If you're already a subscriber, you can access this straight away by logging in to your Simul8 Online account.
Learn more about Simul8
Explore the wealth of features that make Simul8 the #1 choice for simulation.
Learn more