What's new in Simul8 2022?
Our latest Simul8 2022 update introduces ground-breaking new features to help you make decisions in even less time. Each Simul8 release is packed with features and improvements suggested by you, our users - and this release is no different!
As with all of our releases, all of our subscription and Annual Maintenance customers will automatically receive this upgrade for free.
Meet the latest 2022 features
Latest innovation
Machine learning – automatically build your simulation rules from your data
Simul8 is already the fastest tool on the market, with the addition of machine learning we've just taken this to a whole new level! No more having to interrogate process owners and data sets to find the unique routing or timing rules, train your Machine Learning algorithm and let Simul8 do the rest!
We are the only simulation tool on the market to offer integrated machine learning functionality. Everyone lets you train data sets, or optimize end results. We let you use machine learning directly inside your simulation. Just call out to your preferred R or Python machine learning library to process your data set, and it'll tell Simul8 what it should do next.
Combine ML with our other killer USP Process Mining, and you have the ability to build continuously up to date, real time digital twins.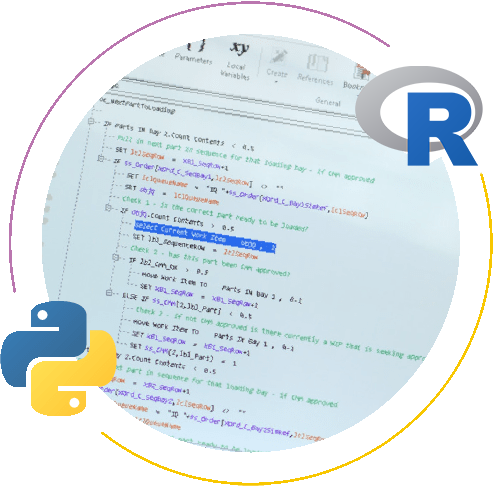 New feature
Use Python and R to control your simulation
Already know Python and R, and would prefer to write your custom rules in those languages? With this release you now can.
You've always had the ability to control Simul8 via APIs in Python and R, so you can embed Simul8 in your tech stack. This release now lets you link a R and Python script to a custom distribution so you can read out to your R or Python script to let it do the processing for you. This lets you access machine learning libraries descibed above, but also to write your own custom code for Simul8 to obey.
New feature
Unleash the power of Visual Logic in Simul8
The first Simul8 2022 update introduced our new Visual Logic Editor Developer Mode, our latest release enables our users to further extend the power of Simul8 with code. Using Simul8's own scripting language built especially for simulation logic building, this release futher extends the power and flexibility of this unique feature.
In this release, we've added new modes into the Visual Logic Editor. Many of our users use Visual Logic, Simul8's scripting tool, to allow for deeper customization when needed. We've made big improvements to the inbuilt editor to make it easy to get started with VL, and have added an extra mode for the real power users to increase efficiency and flexibility.
3 Visual Logic Editing Modes
Logic Builder
The Logic Builder allows you to build up Visual Logic commands without the need to code, using our Visual Logic Editor wizard. Just double click on a command to begin!
Logic Writer
Logic Writer is what was known as the "Free Edit" mode. This allows you to write your commands as though you were writing in a text editor and helps validate each line of code before you move onto the next one.
Developer
The final, and newest, mode is Developer which allows you to write Visual Logic code quickly without the need of having to validate each line as you go. Any errors or code suggestions are listed in an Error box located at the bottom of the Visual Logic Editor. This allows for quick and efficient code writing and helps point you towards any errors that may be in your Visual Logic commands.
More new features and improvements
Improved MORE plot functionality so that now you'll be able to right-click and save the MORE plots generated by the Results Manager.
Improved Process Mining validation if the wrong format of CSV is used

New feature

We've built a 'What's New' section - a dedicated area within Simul8 that details all the exciting new features and improvements we've recently released, as well as some handy resources and news from the Simul8 team!

New feature

Latest Build notification - get notified when a new service pack has been released!
We've made improvements to the Route Out by Sequence "Clear All" button placement and implementation to make it a more intuitive interface for our users.
We've made improvements to the Resource and Pooled Resource Results dialog to display all relevant information so that our users can see everything in the one place.
Plus much more - including improvements to Charts, Components, Excel Connections, Graphics and Process Mining. You'll see some nice user experience and stability improves throughout your Simul8 experience too!
What else is shiny and new?
Thanks to your feedback, we also make make regular improvements and enhancements to Simul8. We release automatically to our online users and our desktop users can download a service pack.
Check out the latest updates
Learn more about Simul8
Explore the wealth of features that make Simul8 the #1 choice for simulation.
Learn more