Learn to Simul8
Simul8 Academy
Learn the essentials of Simul8 at your own pace online with interactive, video-based training modules delivered by our team of consultants.
Benefits of Simul8 Academy
Delivered by our consultants, Academy online training is a fun, effective way to learn the essentials of Simul8.
Up-skill anytime, anywhere
Learn at your own pace anytime, anywhere - from the fundamentals of creating your first simulation to analyzing and exporting your results.
Interactive and video-based modules
No dry training manuals - with video-based modules and interactive quizzes delivered by our own consultants, you'll quickly be able to build high-impact simulations.
Track your progress
You can dive into any of the modules at any time and track your progress, allowing you to focus learning on the areas you need to.
What does Simul8 Academy cover?
Academy is a fast, effective way to learn the fundamentals of Simul8. In each model, you'll cover:
Introduction to Simul8's building blocks basics

Constraining your simulation

Distributions – variability in simulation

Labels – Work Item characteristics
"At Simul8, we're all about ensuring your success with simulation. Academy has been designed to quickly help you learn the essentials of Simul8 so you can really hit the ground running."
Tom, Head of Customer Success
---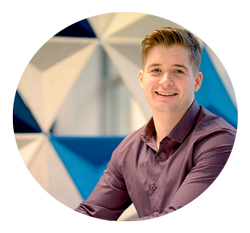 You might also be interested in…
Dedicated to your success with Simul8
We'll always go above and beyond to deliver unparalleled levels of support and expertise to you. If there's anything you need, reach out to the team.
Get in touch