We have been shortlisted! We are delighted to be nominated for 5 Tech for Good awards for our work with South African charity Shout It Now. Read more here.
QuickView
Quickview is an additional and faster way of editing common properties in Simul8 Objects.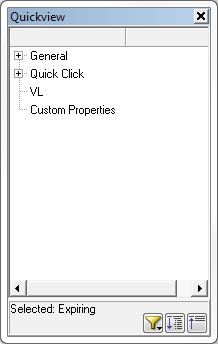 Turn on QuickView from the View tab.
When Quickview is turned on the properties of a selected object will be displayed in the Quickview screen without needing to open the full object dialog.
The Quickview screen is split, by default, into 3 categories: General that displays a default set of properties, Quick Click that provides direct access to certain object properties by double-clicking on the title in the list, and Visual Logic that provides direct access to any Visual Logic code written on the object's events by double-clicking on the title in the list.
The Index option is unique to Quickview. The Index number notes the order that Objects were created in. Normally this is not used. It's purpose is to allow Visual Logic to access and alter the properties of multiple Objects simultaneously.
Quickview can be customized to add new fields to be displayed. Do this by right-clicking on Quickview, select the 'Add New Properties' option and then select from the list of object properties the ones to be displayed in Quickview. These properties will be displayed under a new Quickview category called Custom. Follow the same procedure to remove properties from the Custom display.
See Also