Simulation for Business Process Management
SIMUL8 Corporation and Microsoft Corporation have worked together to closely integrate VISIO and SIMUL8.
---
"SIMUL8 Corporation offers simulation power to our users. It's a powerful 'what if' animation and analysis tool, giving users the ability to see their business with a new perspective, all within a familiar Visio environment. We are pleased to be working with SIMUL8 to provide enhanced simulation and productivity tools to our customers."
Mike Gelon, Director, Solutions Marketing, VISIO Corporation
How Does it Work
Ready to Find out more?
Try one of our free resources:
As both packages* support XML users of Visio and SIMUL8 can work with either package on one file. Develop any Visio flowchart and save it.
In SIMUL8 open the same file and add simulation data to it to turn your flowchart into a process simulation, then save it. Reopen it in Visio and make more changes to it, save it and go back to SIMUL8 - all the Visio and the earlier SIMUL8 changes are still there. One file, two packages - use the best package for the operation you are performing.
SIMUL8 can also import from other BPM applications.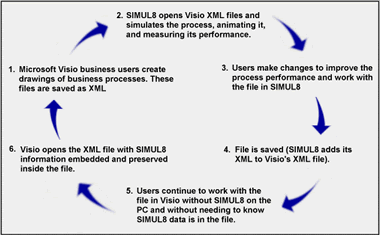 *Requires Visio 2002 Standard, Visio Professional is not required.
To organize a one-to-one demonstration or to ask more questions please email us.
The Benefits
Better control and understanding of resources
Higher quality and efficiency from capital assets
Higher level of customer satisfaction because of better business processes
See the impact of relocating equipment or adding resources BEFORE implementation
Do "what if" scenarios before investing time and money
Visually document your process in a way that really captures how it works
The Operations
As well as operations in Manufacturing, Call Center or Health Care many other business processes and service sector operations can also be simulated.
Check handling procedures
Coinage distribution
Store Resourcing
Packaging Systems
Warehouse and Material Handling Systems
Supply Chain Analysis
Performance Measures
Increase Throughput

Reduce Work-In-Progress
Improve labor & resource utilization
Reduce cycle-time
The Applications
Evaluate a new business process and virtually design a new business process
Business Process Re-engineering (BPR) Projects
Show business benefits of your product to a customer
Bottleneck analysis
Balance Shift Capacity
Develop a training tool for your business process