Standard images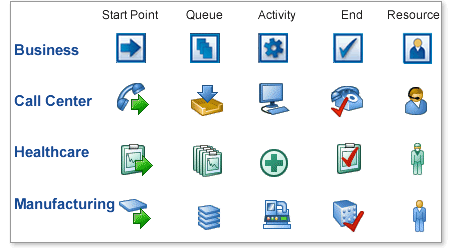 Default Images
Don't want to spend lots of time choosing the right images? SIMUL8 comes with four sets of default Industry sector icons to choose from. Change the appearance of your whole simulation in one click.
Image Library
Need a bit more choice? SIMUL8 comes with a full library of 100s of images for you to choose from and you can import additional ones.
Realistic appearance
Flexible routes
Not everything travels in a straight line - use SIMUL8's flexible routing arrows to make sure your work items follow the right path.
Layers and Sub windows
Manage how your simulation looks without affecting how it behaves by 'hiding' parts of it using these handy tools. (Only in SIMUL8 Professional)
More on Layers More on Sub Windows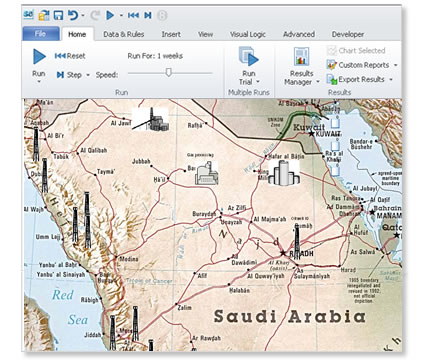 Customize images
To make your simulation look exactly like your real life process, SIMUL8 has a wealth of tools including the ability to:
Animation and 3D
Animation is integrated in SIMUL8 - allowing you to automatically see what is happening as the simulation runs, but if that's not enough:
Animation Speed
Adjust the visual speed of your simulation using the speed control slider in the top window or using the simulation speed menu.
Variable Images
Choose different images to appear for you simulation objects depending on their state (e.g. working, resting, blocked).
3D Simulation
Once you have built your model in 2D, one click changes it to a 3D simulation. You can use images from SIMUL8's 3D library, Google Sketch-up or your own images. This capability lets you use graphics that are familiar to your audience. (Only in SIMUL8 Professional)
Results on Screen
Make it easy to see what's happening in your simulation by displaying results that dynamically update while the simulation runs
Visual Data
Any text or numeric variable can be displayed on the simulation window. This is great for displaying on screen results during a simulation run.
Data Graphics
Instead of numbers or text, why not display information graphically? You can create mini charts and other icons that dynamically change - for instance, fuel gauges going up and down. (Only in SIMUL8 Professional)
More on Data Graphics
Data Grids
Display tables on screen with values that are updated as your simulation runs - a powerful method of displaying inputs and outputs in your simulation. (Only in SIMUL8 Professional)
More on Data grids
Data bars
Show the value of your variable on screen using a Data Bar - use them to create lots of compelling animated displays and even your own bar charts. (Only in SIMUL8 Professional)
More on Data Bars
Display +
Display + lets Visual Logic write any text or graphics to the simulation windows and control every detail of the image.
For example: Create custom charts, create custom ways to display processes, warehouses, anything where you want. You've got complete control over the display. Only in SIMUL8 Professional

More on Display+