Quick Build Paddle

The Paddle lets you create simulations faster. Simply use the arrows around an object to quickly link to and create new objects.
Collaboration
Working with a team?
Track and Apply Changes
SIMUL8 can look at two simulations and highlight the differences between both, then you can accept which changes to apply to the simulation. This allows multiple people to work on the same simulation potentially saving weeks of work. You can even take two simulations and merge them together to create a single new one.

SIMUL8 Connect
This is a secure, online project management system available with SIMUL8 Professional Annual Maintenance. Manage scenarios and revisions and versions of your simulations, and revert between any saved versions easily
More on SIMUL8 Connect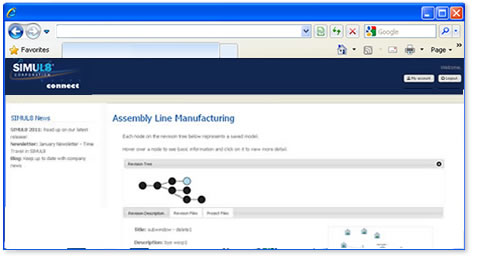 Documenting your Simulation
There are several features to help you document your simulation including the scratchpad, Memos attached to different parts of your simulation, an automatically created formatted file with all simulation settings and the Simulation Title.
Big Simulations - Make Changes Quickly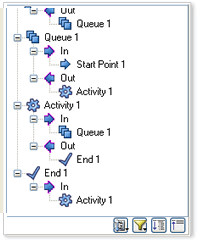 Explorer
The explorer makes it easy to find, inspect and update your objects in large simulations.
Quick View
This is a really quick way to view and change data - just click an object and the panel updates with the object's information. Make changes and the simulation is updated instantly.
Multi Object Changer
You can select multiple objects of the same type and change parameters to the same value in each.
Object Input Summary
The Input Summary provides a summary of all the objects in your simulation. Each object type is displayed on a separate tab.


Viewing Big Simulations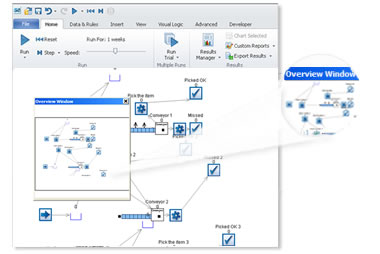 Saved Views
Views of your simulation can be saved to help you easily move your way around large simulations. This is also a fantastic feature for doing presentations with SIMUL8.
Overview Window
An overview of your simulation is shown in a small window, allowing you to find the location you want quickly without losing the detail of your current view
Foldable Sides
To give you as much space on the simulation window as possible we've created folding sides. They're available on both the left and right side of the simulation window so you can easily hide away any of your docked windows.