Simulation Monitor

The simulation monitor lets you see the detailed activity taking place within your simulation step-by-step.
More on Simulation Monitor

Watch Window

This is the ultimate debugging aid. Simply set it to show the state of any part of your simulation at any time. Its value is updated dynamically as the simulation runs.
More on Watch Window




Speed Analyzer

Find out the parts of your Visual Logic that are taking a long time to run. This feature makes it quick to find ways to improve the speed of very complex simulations.
Analyze Simulation
View Contents
The contents dialog lets you look inside an Activity or Queue at the actual work items currently inside it to make sure everything is where it is supposed to be.
More on View Contents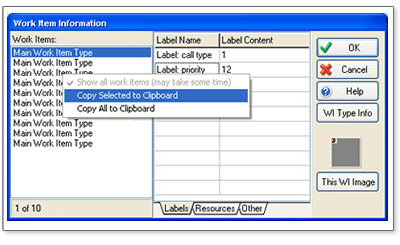 View All Work items
The View All Work Items options allows you to view the properties and location of every work item in the simulation. You can also trace a single work item all the way through a simulation.
More on View All Work items
All States Now
This report shows the current state of every Activity , Start Point and Conveyor in your simulation, so you can make see if it's working, blocked, waiting on work to arrive etc.
More on All States Now
Visual Logic Debugging
To ensure that any code you add to SIMUL8 is working correctly there are a full range of Visual Logic Debugging tools included with SIMUL8.

More on Visual Logic Debugging