Service Packs
Download your latest Simul8 2021 Service Pack
Latest build: 4515
Every month we release updates with exciting new features and improvements for Simul8 - all based on your feedback!
These updates only contain the parts of the software that are new or have changed. Don't forget, if you're using Simul8 for the web you'll automatically be on this latest version!
If you have any feedback, we'd love to hear from you.
What's new in Build 4102?
Released December 16 2021
We've made improvements to the Resource and Pooled Resource Results dialog to display all relevant information so that our users can see everything in the one place.

We've put in a fix to the Emergency Room department Process Mining example when using the End Time label.
Various improvements to improve user experience and platform stability
Improvements to exporting Visual Logic libraries
What's new in Build 4086?
Released October 6 2021
We've made improvements to the Route Out by Sequence "Clear All" button placement and implementation to make it a more intuitive interface for our users.

Further improvements have been made to Chart zoom handling.
What's new in Build 4074?
Released August 31 2021
New feature

We've expanded the 'What's New' area to include handy resources and news from the Simul8 team, as well as details of latest software updates!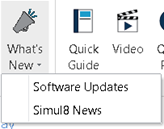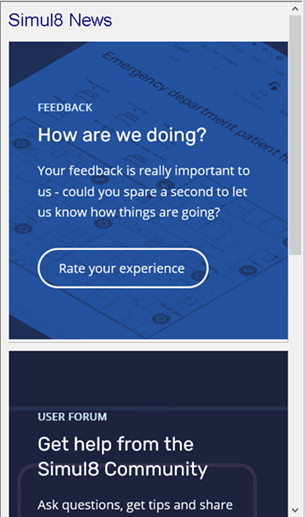 What's new in Build 4060?
Released July 15 2021
New feature

What's new notification area – a dedicated area within Simul8 that details all the exciting new features and improvements we've recently released!

Fix for Components with the Remove Component Layer button
What's new in Build 4052?
Released June 17 2021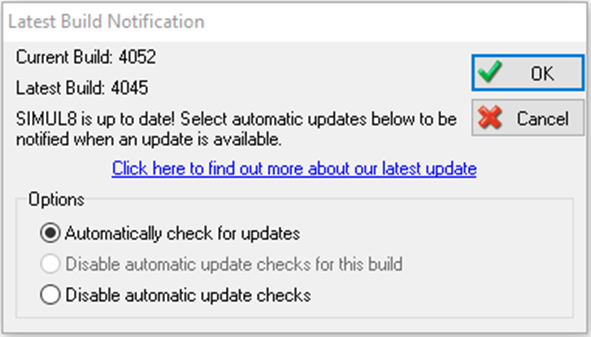 Fixes for Export Excel Connections within Simul8 Online
Improvements to textbox colors where 2 textboxes can now use the same text color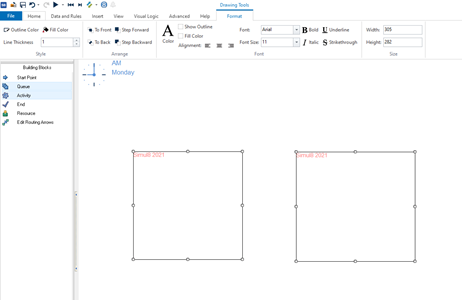 Improvements to User Input on the Ribbon and within dialogs when using 20+ digit number
What's new in Build 4045?
Released April 4 2021
Updates the display of the Recently Used Files List for Simul8 Share.
VL improvements for commands that use selected objects when performing parallel runs
Fixed crash when switching onscreen charts to floating charts
Zooming improvements for charts
Improvements to sharing simulations with Simul8 for the web
Fix for using REALMOD with Time Check Logic
What's new in Build 4026?
Released July 15 2021
Improves the error handling of using special characters with BPMN objects
Arrival Schedule Repeat functionality has been improved
Display Object Status key has been updated
Zooming improvements which allow you to zoom based on the top left corner of the simulation
Improvement to Views where you can now have the view zoom relative to the device's window size
New VL Command: Get UserID which returns the user currently using the simulation
Simul8 for the web fix around naming new saved files
Fix for Create Break Type VL Command where break types no longer get overwritten
What's new in Build 4016?
Fix for issue with copying and pasting disabled Visual Logic lines
Visual and usability improvements for users with high resolution computers
Process Mining improvement where the start and end time format will be automatically chosen based on data provided
Graphical improvements around the component palette
Simulation properties dialog now displays the updated icon
Installation questions?
Get in touch - our friendly support team are always happy to help any questions you have.
Contact support