Johns Hopkins Hospital contains JHHS's largest trauma center with over 1,190 acute care beds and over 100,000 ED visits each year. Ranked number one in the nation by US News & World Report for 22 years running, the hospital has a reputation for excellence and efficiency.
Johns Hopkins Hospital has worked towards achieving a 'zero-wait' ED by using simulation to assess the prospective effects of altering capacity, patient dwell time and intra-departmental processes.
Additional capacity and wait time
Simulation results demonstrated although adding one or two additional rooms would provide steep reductions in wait time for a bed, adding a large number of beds would still not completely eliminate ED wait times alone.
Patient dwell and wait time
Simulation was used to test if a reduction in dwell time of 30% would overall positively impact patient wait times. It was revealed that even reducing dwell times by 30% would also not completely eliminate patient wait times.
Therefore, the team then looked at combining the factors of capacity increase and dwell time reduction in order to achieve 95% of patients to first bed within 30 minutes. It was evident from this test that John Hopkins Hospital would have to add a substantial number of beds and heavily reduce dwell time to achieve their desired 'zero wait' goal.
Boarding time reductions
It had been noted that boarding time in the Johns Hopkins Hospital ED - the time it takes patients to get to an inpatient bed - had been steadily increasing. Various scenarios were tested with the aim of reducing boarding time as it was unknown what effect this would have on the overall performance improvement. Surprisingly, it was revealed that this intervention proved to have the greatest potential impact on reducing ED wait time.
This analysis, in conjunction with the animated simulation models provided by SIMUL8 successfully conveyed the potential benefits of reducing boarding time to senior ED stakeholders. As such, JHHS' have begun assessing scenarios for improving intra-departmental processes.
Time to first beds results from additional bed capacity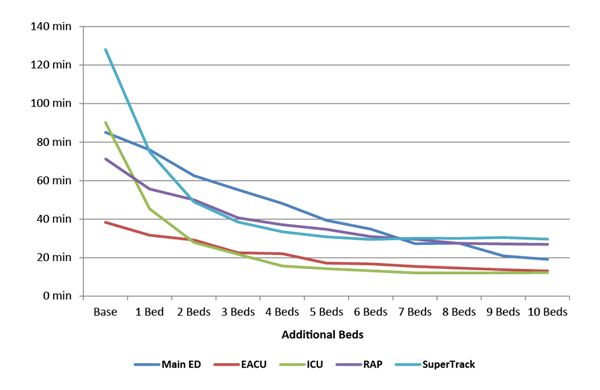 Johns Hopkins Hospital simulation model