OEM SIMUL8
SIMUL8 Corporation's Technology can be licensed for embedding in other applications.
---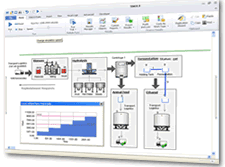 Most parts of the technology you see in SIMUL8 and additional software used in consulting can be included in your product. The required elements of SIMUL8 can be "own branded" so that your end customer does not see it is from SIMUL8. SIMUL8's development team can deliver exactly the simulation technology you require to meet your application needs.
The entry level for using SIMUL8 Technology Services starts at round $50k. Alternatively, if you wish to integrate SIMUL8 or an OCX version of SIMUL8 in your application and don't need special branding or custom features then please consider our Partner OEM options.
Contact Us
To discuss how SIMUL8's technology might be used in your application call us on 1 800 547 6024 or email .