Stat::Fit for SIMUL8 - $245
Stat::Fit for SIMUL8 is SIMUL8 Basic Plug-in that fits your data to the most useful analytical distribution. Stat::Fit for SIMUL8 is included with SIMUL8 Professional.
---
Buy | Money Back Guarantee
Stat::Fit will take your raw data from spreadsheets, text files, or manual input and convert that data into the appropriate distribution for instant input into SIMUL8. Stat::Fit provides relative comparisons between distribution types, and an absolute measure of each distribution's acceptability.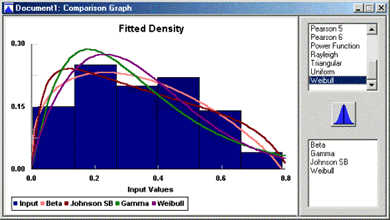 Features include descriptive statistics, parameter estimates, goodness of fit tests, graphical analysis, random variate generation, export to simulation products, and more.
Distribution Fitting
Automatic or Manual fitting.
Includes 15 distributions:
Beta, Binomial, Erlang, Exponential, Gamma, Gauss, Log Normal, Negative Binomial, Normal, Pearson V, Pearson VI, Poisson, Triangular, Uniform, Weibull.
Descriptive Statistics
Mean
Median
Mode
Standard Deviation
Variance
Coefficient of Variation
Skewness
Kurtosis
Parameter Estimates
Maximum Likelihood
Moments
Goodness of Fit Tests
Chi-squared
Kolmogorov-Smirnov
Anderson-Darling
Graphical Analysis
Density graphs
Distribution Graphs
Difference graphs
Box Plots
Q-Q plot
P-P plot
Scatter plot
Autocorrelation graphs
Additional Features
Built-in random variate generator
Data manipulation options
Distribution Viewer