SIMUL8 Feature List - Sharing Your Simulations
SIMUL8 has many features that enable SIMUL8 simulations can be controlled in a variety of ways. This means simulations can be passed to non-expert users or from consultant to client without every user having to undergo the learning curve of SIMUL8.
---
Custom dialogs allow SIMUL8 to be tailored to the specific needs of a business. Dialogs can appear as individually or as "Wizards" in a series.
Custom dialogs can appear as new menu items on the SIMUL8 menu bar, when simulations or templates for simulations are opened, or at any time driven by Visual Logic.
Custom dialogs can display SIMUL8 information store data and allow information store data to be changed by the user. This makes it very easy for someone to use simulation on a daily basis without any understanding of how to build simulations.
Replace the standard SIMUL8 graphic with any image to enhance the look and feel of your simulation's dialogs.
---
Buttons and Hyperlinks on Screen
Any text or image placed on any SIMUL8 simulation window can be active.
Activate text and images can link to either any page on the web, your intranet, help or text files on your disk, or to any Visual Logic in your simulation.
---
The top row of the keyboard can be used as a control board to drive your simulation.
Program each function key to change decision rules during the simulation run, or start a run with particular conditions, or breakdown a machine, anything that can be controlled from Visual Logic can now be directly adjusted instantly by your users (even while the simulation is running).
---
This is a standard Windows COM interface that allows any application that can use COM to drive SIMUL8 without user intervention. Using COM you can create a interface in another package so that the end user need not be familiar with SIMUL8 and can use SIMUL8 in an environment familiar to them.
---
You can put an internal spreadsheet inside a custom dialog. This means you get a much more professional look and feel and can make it more integrated into your interface.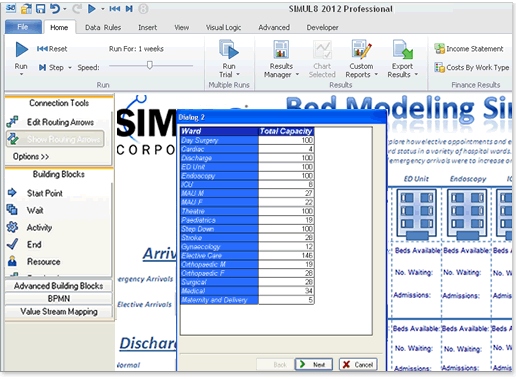 ---