SIMUL8 Feature List - Display
There are many features available in SIMUL8 to help you enhance the look of your simulation.
---
Every object in SIMUL8 can have a customized image. SIMUL8 comes with a full library of 100s of images for you to choose from and you can import additional ones. An image editor is provided to allow you to customize the images.
---
SIMUL8 has always had a massive range of icons to choose from when you are building simulations, but we thought it was time they had a facelift. Now you can create good looking simulations with no effort simply by selecting from our integrated icon library.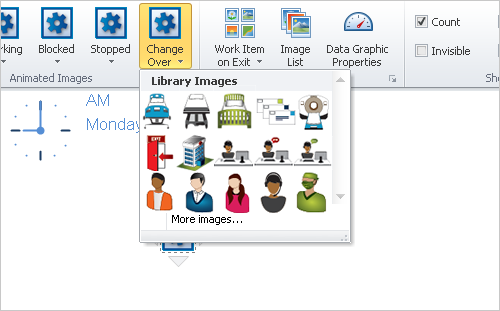 ---
Any objects can be aligned vertically and horizontally and space equally.
---
The image editor allows you to build your own images for SIMUL8 objects.
- Copy images to and paste images form the clipboard
- Add text to an image, you decide on the color and font
- Select an invisible color to be transparent on the simulation screen so that you don't have to worry whether the image matches the background screen color or so you can easily place it over any background image
- Make use of the full range of 16 million colors to get exactly the one you want and the dropper tool means you can pick up a color form any image and copy it into a new one
- Flip, Mirror or Rotate your image.
- Load images from SIMUL8's extensive icon library or from anywhere on your PC
- Save your image into your icon library so you can use it in any model
- Create a 3D or VR image to go with your 2D image (only in SIMUL8 Professional)
---
Edit Images on Simulation Window
You can rotate, mirror and flip your object images directly on the simulation window. You can also access the image editor as well.
---
Many drawing tools are available to allow you to draw on the simulation screen.
---
It is possible to insert .bmp images of any size onto the simulation window to use as a backdrop for your simulation. This is a fantastic feature which allows you to bring a sense of reality to your simulation or simply to add company branding.
---
The simulation window does not have to show all the detail in your simulation.
With a complex simulation you may want to summarize your simulation at different levels. Achieve this by creating sub-windows and sub-windows within sub windows.....to any level of depth you require.
When a sub-window is closed its contents is represented by a single icon on its parent window.
You can also create more animated displays for sub-windows when they are not open, and attach Image Variable Lists to change the icon used for the sub-window as your simulation runs.
---
Routing arrows from objects can be made invisible and you don't have to have all arrows from an object on or off, you can individually select the arrows you wish to hide.
---
Routing Arrows are flexible route arrows to allow for neater onscreen presentation.
---
Object titles can be placed anywhere relative to the simulation object - and optionally wrapped, even placed inside.
---
Any text or numeric variable can be displayed on the simulation window. This is great for displaying onscreen results during a simulation run.
---
Display Plus lets Visual Logic Write Any Text or Graphics to Simulation Windows and Control Every Detail of the Visual Image.

For example: Create custom charts, create custom ways to display processes, warehouses, anything where you want total control over the display!
Display Plus also includes the following features:
Ruler
Get the position and distance between points quickly and easily
Ruler is transparent so you can see what's underneath
Measure in pixels or millimeters
Resize as you need
Show measuring ticks on all 4 sides
Visual Logic Commands to Draw:
Arrows
Rectangles
Circles
Find the Color You Need:
Color picker from the formula editor to quickly find the color code you need
---
Onscreen validation
SIMUL8 2013 packs in lots of powerful new data visualization features including on-hover routing information, to help you instantly verify at-a-glance that your simulation is configured correctly.
---
Hot spots
Hostspots let you graphically show at any time during the simulation run the best or worst performing objects in your process, highlighting when Queues, Activities or Resources are being under or over utilized.
---
Zoom to any degree of accuracy and quickly zoom using the mouse wheel.
---
Lock Your Screen Display. No accidental moving of objects - lock your objects from accident moves.


---
Move one or more selected simulation objects pixel by pixel precisely to where you want them using the arrow keys. This feature makes it much easier to refine your display quickly.
---
SIMUL8's display has antialias capability. Antialiasing makes the edges of lines appear smoother. So bendy arrows, pipes, on-screen text, drawing objects and object all look much better.
---
AutoCAD® is the industry leader in 2D and 3D CAD design for architectural and engineering drawings. SIMUL8 2013 allows you to import directly from AutoCAD® 2013 in just 3 clicks!
You can also control the layers that are imported and constrain the size of the imported layout.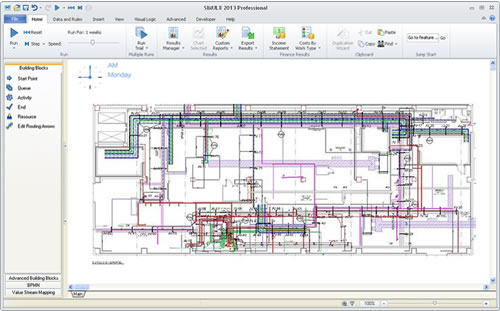 ---
Default Icons by Industry Sector
SIMUL8 comes with 4 sets of default Industry Sector Icons. In Preferences you can choose to set the default icons to a industry sector so that whenever you start a new simulation you get the right icon set by default.
---
Dynamically create charts from data stored within SIMUL8 internal spreadsheets.
Allows for a totally customized axis.
Visual Logic commands let you control when the chart gets updated, just add one point, or refresh all the content.
Gives you complete control over speed and performance at run time.
---
Gantt Chart View for Shift Patterns
Instead of going in and out of shift dialogs to remember the set up of each, view them all side by side in an easy to understand Gantt Chart view.
---
Graphically display information on screen attached to a simulation object. You can display text, bars, and icons. You can specify conditions for different icon flags to be displayed and can display multiple bars so you can effectively create mini charts on the simulation window. All values are updated on screen as the simulation runs.

This feature is only available with SIMUL8 Professional
---
Layers allow you to manage how your simulation looks more easily. You can create as many layers as you like and then assign objects and background images to one or more layers. Then depending on whether the layer is set to be visible or not you will or won't see the objects.
It's a simple concept that gives you lots of choices. You can have views to display onscreen results only active during run time say. You could have a debugging layer containing all the objects you've added for routing or coding reasons so they never have to be seen keeping the layout clean and simple.

This feature is only available with SIMUL8 Professional
---
As your simulation runs the color and intensity of the routing arrows is adjusted to show which route has the highest volume of work items. It's a powerful graphical display but also a useful analysis tool.

This feature is only available with SIMUL8 Professional
---
You can add a grid to your main simulation window. This allows you to quickly place your objects where you want them and also provides an alternative view for your simulation.
---
SIMUL8 now includes Data Grids. We think it's one of the most significant features we've added to SIMUL8.
Display data tables onscreen
Values are updated while your simulation runs
Choose from pre-defined table templates and create your own
Full formatting capabilities with easy to use interface to get your grid looking just as you want it
Data Grid's provide a powerful method of displaying inputs and outputs in your simulation.
---
Setting up lots of Visual Logic to dynamically change images based on what's happening in your simulation is tedious. Image Variable Lists make it easy!
Store a series of images in a list and assign them a numerical values and assign them a global variable.
SIMUL8 changes the image automatically as the variable value changes.
Apply to all simulation objects, components, sub-windows and onscreen images.
Image Lists help you create exciting animated simulations quickly and easily.
---
Show the value of your variable onscreen using a Data Bar.
This is a simple feature with lots of potential, use it to create lots of compelling animated displays and even your own bar charts.
---
The Quick Launch Panel allows you to quickly and easily create interfaces for your simulations.
Add buttons to open charts, dialogs, custom reports or run your own Visual Logic.
Any text descriptions and hover tips to the button to instruct users on how to use your simulation.
Create new tabs to organize your buttons as you need.
---
Focus in on areas of your simulation at design and run time. The magnifier follows your mouse cursor as it moves. Ideal for:
Watching the high level view of your complicated simulation without loosing the detail of the animation.
Positioning objects exactly where you need them.