Assembly Line Balancing software
When designing and managing a mixed-model line-assembly, system engineers strive to satisfy objectives such as maximizing line throughput, minimizing the number of stations, maintaining a balance of work across stations, satisfying delivery rates, accommodating product mix changes, and more.
---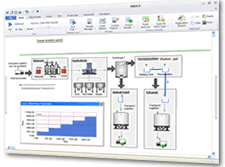 With so many different and potentially conflicting requirements on the system, the outcomes of a new process design, or re-design, may be difficult to predict. The interdependencies between process constraints and design objectives are generally complex and difficult to recognize. Designing a new system or re-designing an existing assembly line incorrectly can result in lost production and overworked operators.
The following factors can add complexity to the design of an assembly line:
Reliability of equipment
Availability of operators
Size of line buffers
Sequence and mix of product
Delivery rates and volume
Ready to Find out more?
Try one of our free resources:
Analytic methods can be used, but are limited due to the dynamic nature of the system. The impact of buffering, shift patterns, and product sequence quickly confounds this approach for line design and balancing.
Why Simulation?
Simulation provides the perfect platform to test line designs in a fast and risk free environment. With a simple simulation of the line assembly operations you can identify system bottlenecks, run different production schedules, and evaluate the impact of design and scheduling decisions, such as buffering requirements and product mix. This "what-if" analysis can be done quickly and effectively to evaluate all the conflicting decision criteria.
Simulation allows the developers and line managers to quickly analyze the system under various operating conditions. Simulation is virtually a necessity to perform any rigorous and meaningful analysis on a modern production line. It is capable of modeling at the required level of detail and it can establish confidence levels around results for a wide range of issues.
Read our case studies on line balancing with SIMUL8: